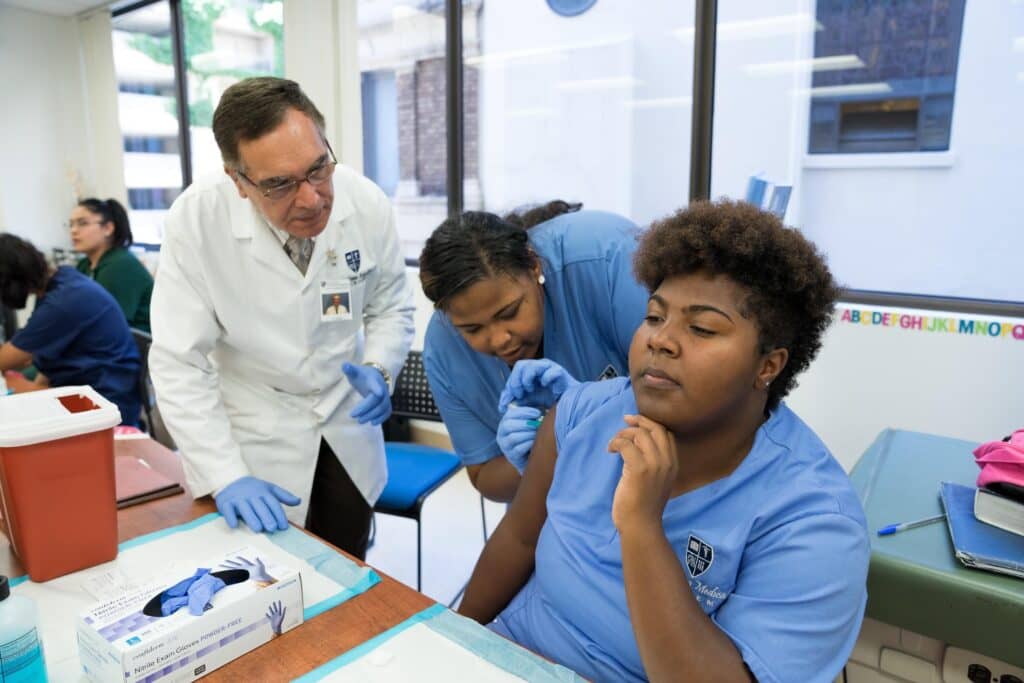 A mobile phlebotomist performs a very valuable healthcare service by drawing blood from patients at their homes, care facilities, workplaces, or other locations and delivering it to a laboratory. With an aging population and many patients who struggle to travel due to COVID-19 risks, the field of mobile phlebotomy is booming. Whenever a patient can't travel, a mobile phlebotomist is what is needed.
What is a Mobile Phlebotomist? Day-to-Day Activities
The day-to-day activities of a mobile phlebotomist involve traveling to various locations to collect blood samples from patients. This includes setting up a portable phlebotomy station, explaining the procedure to patients, and safely and accurately collecting blood specimens. Mobile phlebotomists must also carefully label and transport the collected specimens to a laboratory for analysis, ensuring that they comply with relevant safety and ethical regulations.
In some cases, employers may refer to it as running a mobile lab. That's not technically accurate, as there is no laboratory on wheels. The blood is processed and analyzed in another location. The mobile phlebotomist acts as the go-between for the patient and the lab so that patients don't have to travel.
Day-to-day activities will change depending on whether you are a contractor or a regular employee. A contractor runs their own independent operation in which they pick up blood samples as requested by clients. They also can pick and choose who they work with. However, it's important to note that a mobile phlebotomist can also be working as a 1099 contractor for a mobile phlebotomy company, such as APPS Portamedic or IMS Paramed, but they don't run their own operation; they are given clients/days of work/routes by their employer that they agreed to.
A full-time worker will likely be assigned a specific route or area that they are responsible for. When they go to work, they'll receive a list of assignments in that area, and they will carry them out.
In either case, it's an independent position. Someone who takes it on will need to have excellent time management skills and a high level of responsibility. They'll also need to have the appropriate phlebotomy certification.
What Certifications are Required for a Mobile Phlebotomist?
In California, mobile phlebotomists must obtain a phlebotomy technician license (CPT-1) from the California Department of Public Health (CDPH). This license requires applicants to complete a training program, pass a written exam, and meet other eligibility requirements, such as completing a criminal background check.
On top of that, you will need to have a valid driver's license. Employers like to see a clean driving record with no history of at-fault accidents or serious moving violations. They're also very concerned about the reputation of the school you attend because mobile phlebotomy is such an autonomous position.
How Your Training Impacts Your Mobile Phlebotomy Career
To get a CPT-1 license in California, you must attend an accredited program. Mobile phlebotomy has higher standards and requirements because of the risk of liability. While employers might be willing to hire entry-level individuals to take on these positions, the school they attended will become very important. Individuals who attend a school with the following components will have a competitive advantage.
Extensive classroom training: A phlebotomist working in a hospital or clinic will have some level of supervision, while a phlebotomist working on their own won't. If they don't have extensive training in things like HIPAA compliance, ethics, privacy, and medical procedures, they won't be able to handle many of the requirements of the phlebotomy position. Any school you attend should offer extensive instruction in the administrative, legal, clinical, and medical requirements of phlebotomy.
Extensive clinical training: In a hospital or clinic, there's always somebody around if you can't find a vein or if you're struggling to draw blood from the patient. The same is not true for mobile phlebotomy. If you can't complete the task, then everything needs to be rescheduled. A school that offers extensive clinical training will go well beyond the required number of skin punctures and venipunctures for certification. They will train their students in these procedures until they are second nature.
Externship: The final component that companies hiring mobile phlebotomists love to see is an externship. It means you have real-world experience taking blood from patients. As mobile phlebotomy can, in many cases, be a new graduate's first phlebotomy job, that real-world experience is invaluable. An externship also comes with the bonus of providing you with the necessary connections and networking opportunities to find these positions when they arise.
By attending a school with those components, you can stand out when you're applying for mobile phlebotomy positions. You can also set the foundation so you can grow in your career.
What is the Career Trajectory of a Mobile Phlebotomist?
A mobile phlebotomist can choose to remain in their specific position, as it's a lucrative, independent, and viable career path. However, there are additional paths these professionals can take to grow their skills and their earning potential:
| Specialization | Supervisory or Management Roles | Additional Certifications | Entrepreneurship |
| --- | --- | --- | --- |
| With additional training and experience, mobile phlebotomists can specialize in specific areas, such as insurance examination phlebotomy, where the phlebotomist travels on behalf of an insurance company to take samples for policies. | Experienced mobile phlebotomists may progress into supervisory or management roles, overseeing other phlebotomists or managing a mobile phlebotomy team. | Mobile phlebotomists may choose to further their education and pursue a career in nursing, laboratory science, or another healthcare profession. Some mobile phlebotomists may also choose to become certified phlebotomy instructors or work in healthcare administration. | Mobile phlebotomists may choose to start their own businesses and provide mobile phlebotomy services independently. This requires business and financial management skills and a deep understanding of regulatory requirements. |
Mobile phlebotomy is a growing field, with increasing demand for at-home healthcare services. As a result, mobile phlebotomists can expect to have steady employment opportunities and the potential for career advancement.
People asking what a mobile phlebotomist is are usually drawn to the independence of the career. To obtain the needed certifications and credentials, start with a school that offers strong clinical, classroom, and externship training. That will give you an edge that will allow you to follow many different rewarding career paths.
BAMA Institute provides the training you need to pursue the career path of a mobile phlebotomist. To discuss our programs, reach out to an admissions representative.