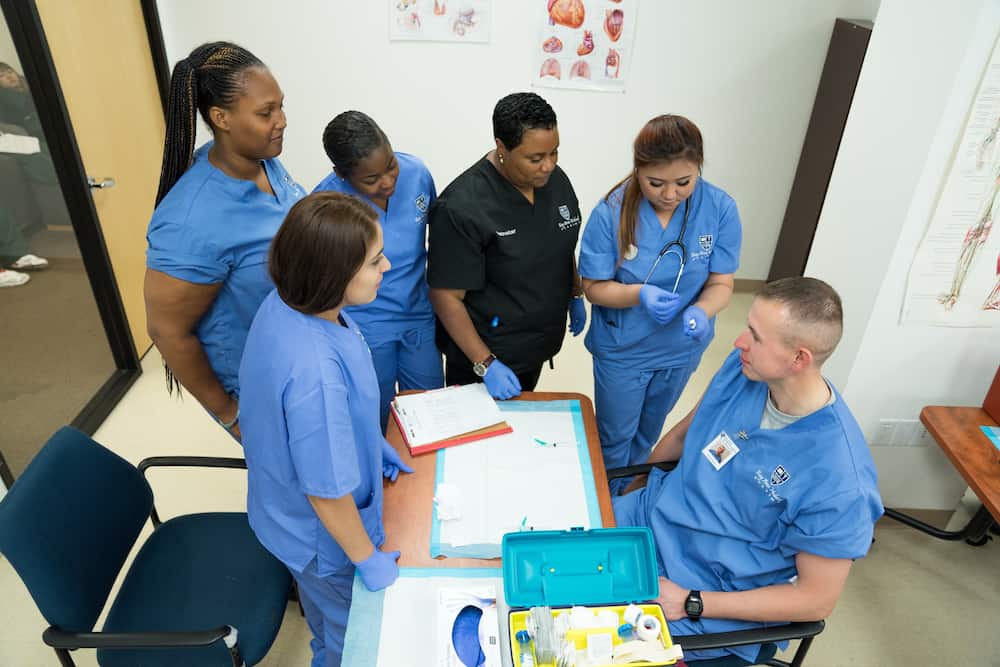 California's best phlebotomy programs have a lot to offer, but what might be right for one student may not be ideal for another. This is especially true when it comes to career advancement. The students with the strongest credentials and who attend the most reputable programs are the ones who will have the most potential for career growth. Comparing California's best phlebotomy certification programs will help you find the path that's right for you.
Comparing California's Best Phlebotomy Certification Programs
California has a lot of great options for becoming a phlebotomist. For simplicity's sake, we can narrow down some of the top ones in the Bay Area.
Name
Curriculum
Scheduling and timetable
Tuition cost
BAMA Institute

BAMA Institute offers a highly respected phlebotomy training program at our San Francisco and San Jose campuses. We also offer a comprehensive 3-in-1 Medical Assisting with Phlebotomy program through our sister school, Bay Area Medical Academy.
Our program far exceeds California Department of Health Standards, offering basic and advanced phlebotomy education. We also work with a wide range of area employers and are frequently able to offer direct placement to our students because of those relationships.
Our program is broken down into 60 hours of classroom study and 40-160 hours of clinical training via an externship with an area healthcare provider like Concentra, UCSF Medical Center, Kaiser Permanente, and more. New classes start monthly, and we offer flexible day, weekend, and evening options. This program takes 3-5 months to complete.
The estimated total tuition for the phlebotomy training courseis $3,522.00. We offer 0% interest payment plans and other free or low-cost programs for eligible students.
City College of San Francisco

CCSF offers a phlebotomy technician program, along with 300 other degree and certificate programs, depending on location. Its phlebotomy program prepares students to take the CPT-1 exam.
The program meets California Health Department standards and includes 40 hours of classroom training and 40 hours of clinical training. The curriculum also includes basic life support training.
CCSF, which offers spring and fall classes, notes that the minimum time to complete a program is one semester. Applications are only taken once per year. Lectures and lab training are held on Wednesdays from approximately 1 p.m. to 7 p.m. Lab hours are assigned by lottery.
Tuition is listed as $46 per semester unit for resident students and $290 for non-residents. The total program size is 6-8.5 units.
Kaiser Permanente School of Allied Health Sciences

KPSAHS offers a phlebotomy technician training program that prepares students to take the CPT-1 exam through the National Center for Competency Testing. The school also offers other medical-focused career tracks, including ultrasound technician, counselor, and medical assistant.
This program exceeds California Health Department standards and includes training in basic and advanced phlebotomy as well as clinical practice. The program solely focuses on the CPT-1 certification.
Students can complete this 320-hour program after three months of intensive study. During the first seven weeks, students will attend three eight-hour classes per week, while the last four weeks of the program are dedicated to full-time clinical study.
KPSAHS lists a total of $4,687.50 in tuition and fees for students in the Basic and Advanced Phlebotomy programs.
Project Heartbeat

This medical education school is specifically targeted to emergency and first responder training, with a mission to "Save Lives Through Education." It offers a wide range of programs, including a phlebotomy training track.
This program meets California Health Department standards for multiple certifications, including the CPT-1. Other certifications available at the school include basic, advanced and pediatric life support, emergency medical technician, electrocardiogram, and more.
Project Heartbeat combines 80 hours of classroom instruction with 40 hours of clinical training in an externship, for a 120-hour total time investment. The program can be completed in approximately six weeks.
The total cost of the program including both tuition and fees is estimated at $3,494.00
Phlebotomy Training Specialists

This phlebotomy-focused training school has a presence in 34 states, with 84 separate locations. About 20 of those locations are in California, with the closest to the Bay Area being El Cerrito.
This program is focused on obtaining the CPT-1 as rapidly as possible. Though it does meet California's minimum health department standards, it's an accelerated option that may be better suited to students with experience.
Phlebotomy Training Specialists offers day, evening, and weekend courses for completing the 40 hours of required classroom training. The 40-hour externship is completed in a single 40-hour week. Students who follow the accelerated track can earn their certification in under a month.
Total tuition and fees are listed at $2,595.00 with a $250 deposit required to hold a slot.
Choosing the Right Phlebotomy Certification Program
The best phlebotomy certification program for you will be based on your skills and experience. While many students are drawn toward more accelerated programs, they may not provide the confidence needed for success.
Scheduling is another concern. At BAMA Institute, many of our students are going back to school to change careers. They already work full-time, have families to care for, and have other commitments to manage. That's why we build flexibility into our programs. Some phlebotomy programs are geared more toward new high school graduates who don't have as many commitments. A strong externship program is another factor to consider, as students gain from putting their skills into action once they've completed their coursework.
Finally, you have to consider the school's reputation. Schools with direct externship placements will have connections with area employers, meaning those employers are familiar with their students. Graduating from a program with a strong reputation will give you a competitive advantage in the job market and with future career advancement potential. Many Bay Area healthcare employers send their employees to BAMA Institute for phlebotomy training, and it's regularly their school of choice.
Keep these three things in mind as you consider the best phlebotomy certification programs in your area. Choosing a program with flexible scheduling, comprehensive training, and a strong reputation will set you up for success.
BAMA Institute offers one of the best phlebotomy certification programs for career advancement thanks to our comprehensive curriculum and strong connection to healthcare employers. To learn more, reach out to an admissions representative.