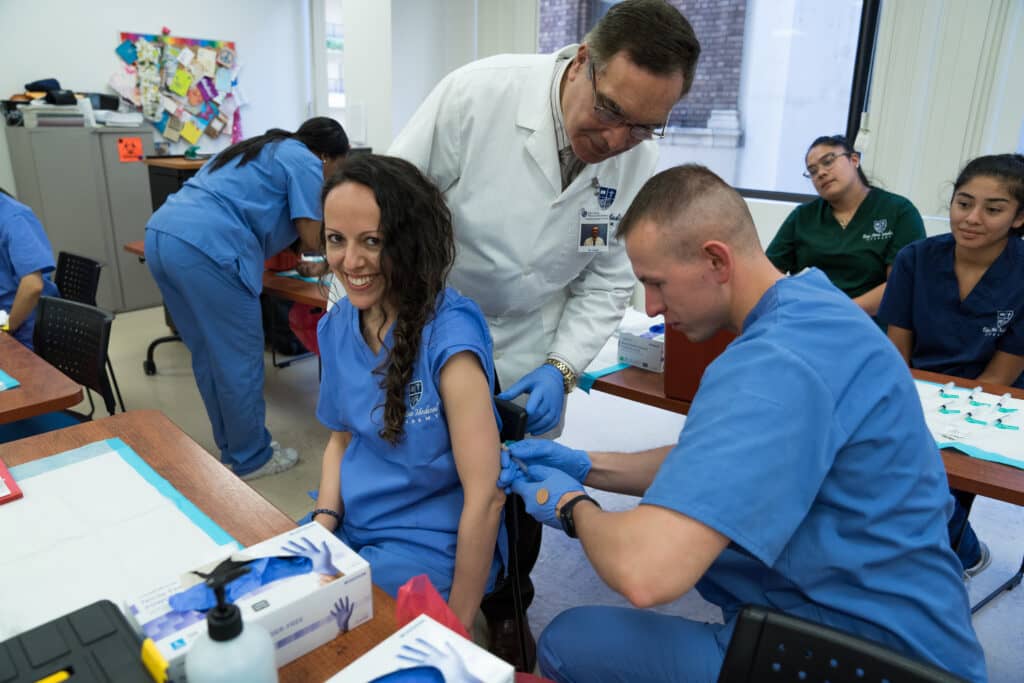 What is the main responsibility of a phlebotomist? The primary function of the phlebotomist is to serve as the blood collector for the clinical laboratory team. Once the sample arrives in the lab, it is analyzed by a clinical laboratory scientist (CLS), and a diagnosis is determined by the care provider.
There are many niche positions for phlebotomists, but the primary function of phlebotomy is drawing blood.
What Is the Main Responsibility of a Phlebotomist?
The main responsibility of a phlebotomist is to draw blood from patients. These blood draws may be done in one of three ways: either through skin puncture, venipuncture, or arterial puncture.
| Skin puncture | Venipuncture | Arterial puncture |
| --- | --- | --- |
| | | |
| This is the least invasive procedure, requiring only a Limited Phlebotomy Technician (LPT) certificate. | This procedure involves taking blood directly from the patient's vein and is more invasive than a skin puncture. A CPT (Certified Phlebotomy Technician) license is required in the state of California to perform venipunctures. This is the most commonly performed blood draw technique in the field of phlebotomy. | This blood draw method involves taking samples directly from an artery. California requires phlebotomists to obtain a level II license prior to performing arterial draws. Phlebotomists working in hospitals or respiratory care clinics may find having a CPT II license useful. |
California requires phlebotomists to be licensed CPTs. Phlebotomists can be found working in hospitals, clinics, research, or mobile laboratories in addition to other healthcare facilities.
What are Some Additional Responsibilities of a Phlebotomist?
A phlebotomist's duties don't stop after drawing blood. They also have to accurately label, track, and send blood samples to the appropriate location. Phlebotomists in certain positions may also have to take on some specialized responsibilities specific to their area of medicine.
Safe blood transport: Mobile phlebotomy requires that a phlebotomist works within the confines of a CLIA-approved lab by extension. A travel phlebotomist goes on location for a limited amount of time, such as out of the state or area, and works as a member of the clinical laboratory team. Mobile phlebotomists travel daily to different sites, such as elder care facilities, psychiatric hospitals, or the homes or businesses of patients. These are regularly scheduled visits that are overseen by a company that provides the offsite services as part of their scope of service.
Bleeding time tests: A bleeding time test is just what it sounds like: It's a test a phlebotomist can perform to see how long it takes someone's blood to clot. This isn't a standard test and is typically done when somebody is reporting issues with slow healing, or has a history of blood clotting problems. These types of tests are often completed to diagnose blood clotting disorders like hemophilia or Von Willebrand's disease, so phlebotomists working in hemophilia treatment centers will perform them frequently.
Become a Confident Phlebotomist with BAMA Institute
A better way to address the question "what is the main responsibility of a phlebotomist?" would be to consider the different types of ways you can train for the profession. While the role is all about blood collection and testing, those skills can be applied in many different ways. By participating in a well-rounded training program, however, you can prepare yourself for any of them.
BAMA Institute has one of the Bay Area's most trusted phlebotomy training programs that will prepare you to take on the responsibilities of a phlebotomist with confidence. To learn more, contact an admissions representative today.