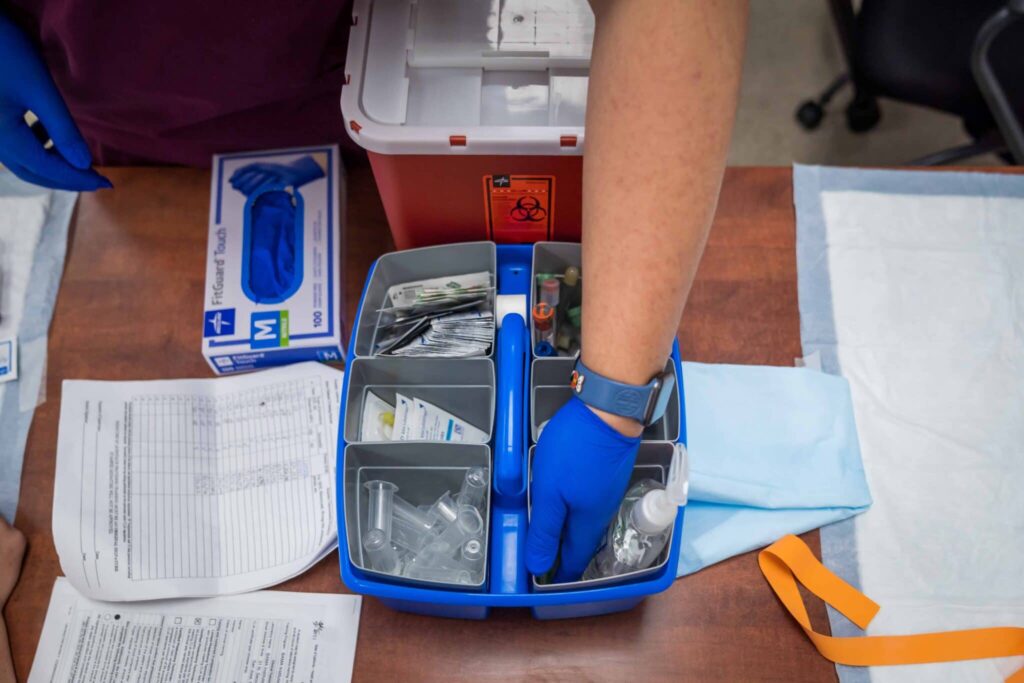 If you want to be a phlebotomist in California, you'll have to take a national certification examination. Six certifying organizations are approved to offer these tests, though the National Center for Competency Testing (NCCT) stands out as one of the most reputable and longstanding options. The NCCT phlebotomy exam, or NCPT, is one of the most widely recognized and preferred due to its comprehensive coverage. This is what you need to know about preparing for this exam.
NCCT Phlebotomy Exam Eligibility Basics
The NCPT, along with phlebotomy training at a school accredited by the California Department of Public Health, makes someone eligible to apply for the CPT-1, the license required to be a phlebotomist in California. It has been a recognized test since the state began requiring phlebotomy licenses in 2003. That means that area employers know and respect it.
It's also a flexible option, offering paths for both students and experienced professionals. To be eligible to take the NCCT phlebotomy exam, you must meet the requirements based on one of two paths:
Path 1: Students/Graduates
Attend an NCCT-accredited phlebotomy program.
Provide proof of attendance and practical skills.
Path 2: Experienced Phlebotomists
Have one year of documented experience as a full-time phlebotomy technician within the past five years.
Alternately, complete a phlebotomy technician program as a member of the US Military in the past five years.
If you meet the standards in either category, you can apply to take the NCCT phlebotomy exam. Of course, passing that exam is another matter. It's challenging, and you can't go in blind. You should familiarize yourself with the structure of the exam and adapt a study plan so you can pass on your first attempt.
Breaking Down the Structure of the NCCT Exam
The NCCT phlebotomy certification test is extensive, comprising 125 scored items and 25 unscored pretest items. The test primarily consists of multiple-choice questions, supplemented by a smaller portion of "alternative" items. These alternative items may include multi-selection, drag and drop, or hot spot questions, where students identify an area on an image. The distribution is roughly 90-95% for traditional multiple-choice and 5-10% for alternative items.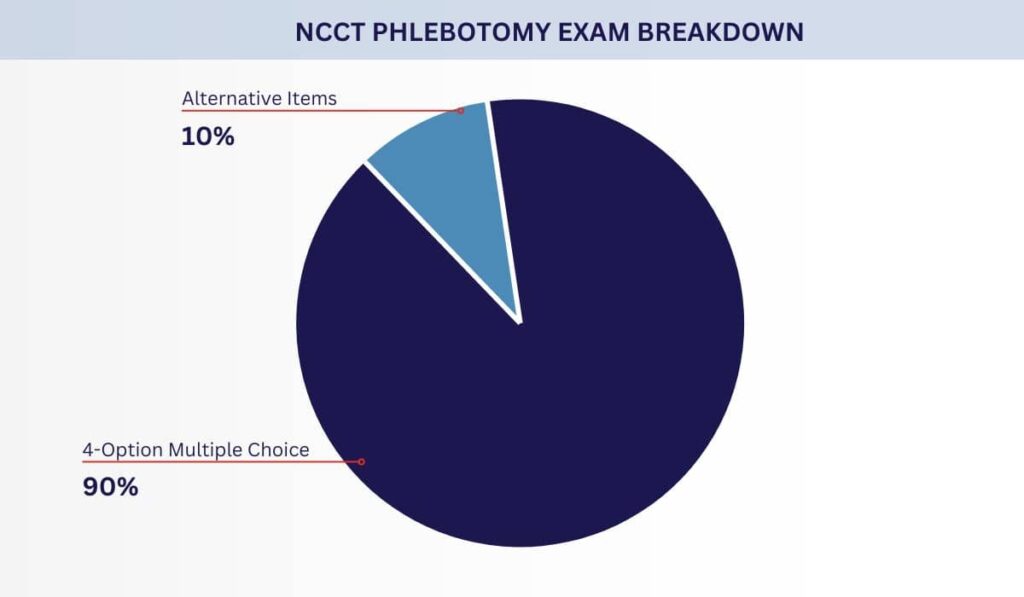 Although the test primarily consists of multiple-choice questions, it presents a significant challenge. The NCCT has designed the questions around six categories that demonstrate professional competence and a comprehensive understanding of phlebotomy.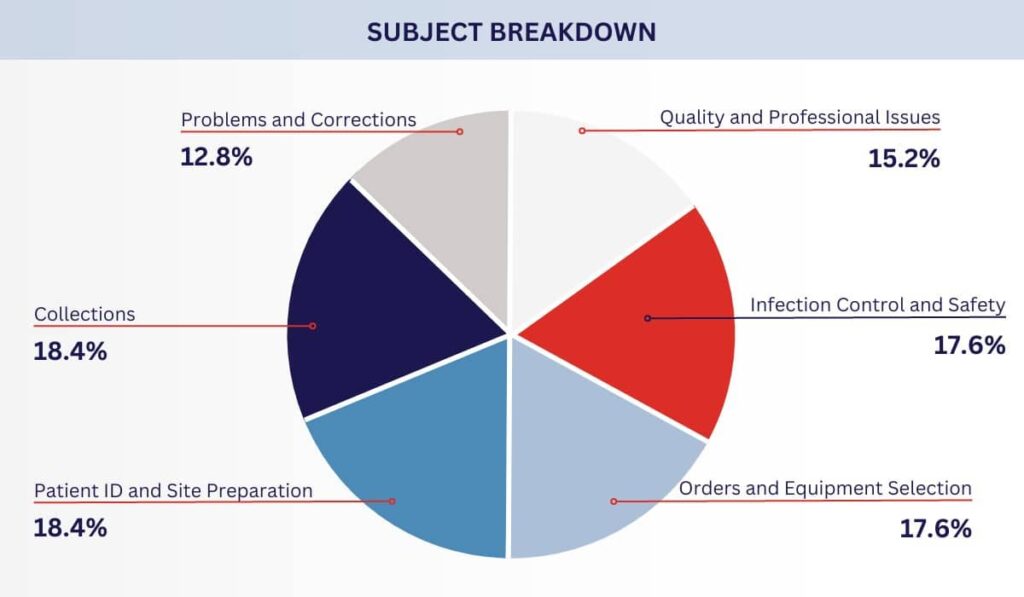 Quality and Professional Issues: (19 questions)These include questions on professional ethics, communication skills, and adherence to industry standards in patient care.
Infection Control and Safety: (22 questions) This section assesses the phlebotomist's knowledge of infection prevention measures, standard precautions, and safety protocols.
Orders and Equipment Selection: (22 questions) These questions test the ability to interpret specimen collection orders accurately and select the appropriate equipment.
Patient ID and Site Preparation: (23 questions) Here, the exam taker will answer questions relating to verifying patient identities and preparing the venipuncture site appropriately
Collections: (23 questions) Here, the examinee must demonstrate proper technical knowledge for completing venipunctures, skin punctures, and other blood draws.
Problems and Correction: (16 questions)A section of questions is designed to demonstrate the examinee's capability to identify and troubleshoot common issues during the specimen collection process.
You'll have to demonstrate a deep understanding of all the above if you want to pass the NCCT phlebotomy exam. A big part of this will depend on your phlebotomy technician program. While practical skills are perfected in clinical hours and on the job, your exam results will depend on the hours you spend studying.
5 Tips for Preparing for Your NCPT Exam
Working with an accredited, reputable institution to prepare for your NCCT phlebotomy exam is the best path to success. They will provide a detailed curriculum covering all of the test components and clinical time to put those skills to practical use. There are also a few things that you can do on your own to set yourself up for success.
Review the outline: While we've tried to break down the exam above, there's always a chance it will change. Review the most current exam content outline to ensure you're studying the right segments.
Study one area at a time: The exam is broken into components, so it makes sense to break your study sessions into that as well. Create flashcards and study guides around each segment and master that segment before starting another.
Test and test again: Take multiple practice tests to measure your progress and see how close you are to gaining competency in the material. That will help you return to those study materials you created in the second step for areas you need extra help.
Use clinical time to tie concepts to practice: Take the opportunity in your clinical time to connect your classroom lessons to your actual procedures. For example, in the problem-solving section, there likely will be a question or two on what to do when you can't find a vein. Watch how this is handled in a practical environment so you can remember the steps for later.
Relax! Give yourself a break and take some time to relax.Going into the test stressed or overwhelmed will only hurt you. Practice deep breathing and mindfulness exercises to stay calm and keep focused.
Both eligibility for and passing the NCCT phlebotomy exam depends on your school. With a reputable, comprehensive program, you'll have the foundation you need to tackle this challenging test. Establish your own study plan, and you'll be well on your way to obtaining your CPT-1.
BAMA Institute offers full and refresher phlebotomy technician courses that prepare you for the NCCT phlebotomy exam. To learn more, reach out to an admissions representative.