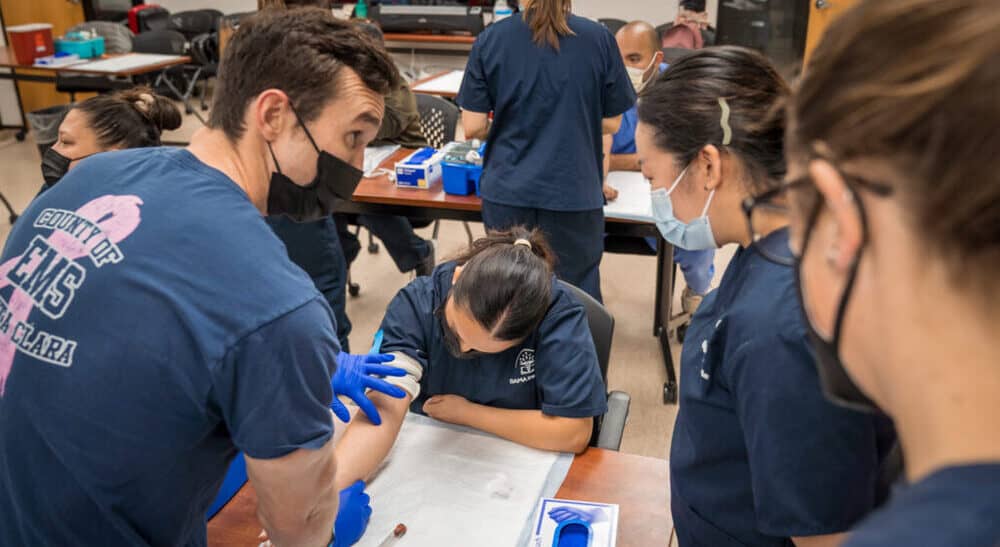 The NCCT phlebotomy certification program from the National Center for Competency Testing allows you to work as a phlebotomist. While it's not the only credential you can pursue to obtain your CPT-1 in California, it is one of the best for those new to the field who want a comprehensive program. You will need a certification if you want to be a working phlebotomist in California; which one you get will tell those future employers a lot about you.
What is the NCCT Phlebotomy Certification?
In California, one of the requirements for obtaining your CPT-1—the license required to complete blood draws on patients—is to pass a national certification exam. However, it can't be just any certification exam. The California Department of Health has approved six certifying organizations to conduct exams in the state;
The NCCT is one of the oldest and most respected certifying agencies on the list. In fact, it was among the original certifying agencies to provide testing when California began requiring phlebotomy licenses back in 2003.
The NCCT phlebotomy certification is one of the friendliest and most flexible for individuals without much experience. There are two broad paths that you can take to qualify for the test. In both paths, you must have at least a high school diploma or GED as a minimum qualification. Other criteria can be met by either education or work experience
| Students/Graduates | Experienced phlebotomists |
| --- | --- |
| Attend an NCCT-accredited phlebotomy program. Provide proof of attendance and practical skills. | Have one year of documented experience as a full-time phlebotomy technician within the past five yearsAlternately, complete a phlebotomy technician program as a member of the US Military in the past five years. |
It's important to remember that just because you qualify for the exam does not mean it's easy to pass. The NCCT phlebotomy exam can be a very challenging test. Most of our graduates feel most comfortable taking it after they've at least completed classroom and practical training. Of course, the NCCT is not alone in having a challenging exam. All the paths to phlebotomy certification in California also have their own challenges.
Weighing the Alternatives to the NCCT Certification
The requirements for obtaining any of the certifications that qualify you to work as a phlebotomist in California are all very similar. They include classroom and clinical training requirements, as well as proof that you completed a certain amount of skin punctures and venipunctures. Finally, they all have challenging exams.
But you should also think about how your certification will affect you in the long term. First, you want to consider how long that certification has been around. That tells you if employers are familiar with it. Next, you'll want to consider how long this certificate lasts until you have to get it renewed.
Finally, and most importantly, you'll want to look at continuing education requirements. While it may be tempting to go with the certification that requires the least, healthcare employers also know which certifications are best. They typically prefer certifications from organizations that require their members to do some regular professional development.
| Certification | Certification Established | Certificate Length | CE Requirements |
| --- | --- | --- | --- |
| American Certification Agency (ACA) | July 30, 2003. | 2 years | 0.5 CE hours per month from the certification date |
| American Medical Certification Association (AMCA) | June 30, 2017 | 2 years | 10 continuing education credits every two years |
| American Medical Technologists (AMT) | April 22, 2003 | 3 years (with yearly renewal fees) | 24 CE points during the certification period |
| American Society of Clinical Pathology (ASCP) | June 10, 2003 | 3 years | 9 points during the certificate period through the Credential Maintenance Program |
| National Center for Competency Testing (NCCT/MMCI) | February 6, 2003 | 5 years (with yearly CE reporting to remain active) | 14 credit hours of CE annually |
| National Healthcare Association | February 4, 2005 | 2 years | 10 CE credits |
The NCCT stands out among the other certification options based on how long it has been around and its lengthy validity period. It's also well known among healthcare employers because of its continuing education requirements.
The whole purpose of continuing education is to ensure that a phlebotomist is growing in their role. However, some certification credentials allow individuals to quickly cram in all their CE hours or points in the few days before they recertify. That isn't helpful because it's not doing what CE is designed to do—help you improve and update your skills.
That's why most California healthcare employers trust the NCCT phlebotomy certification path. It's a well-established, reputable credential obtained by professionals who continuously improve their skills. The NCCT phlebotomy certification will help you get your CPT-1, but it will also give you an edge when it's time to use that license.
BAMA Institute provides an NCCT phlebotomy certification path through our fully approved program. To learn more about how you can become a licensed phlebotomist, contact an admissions representative.