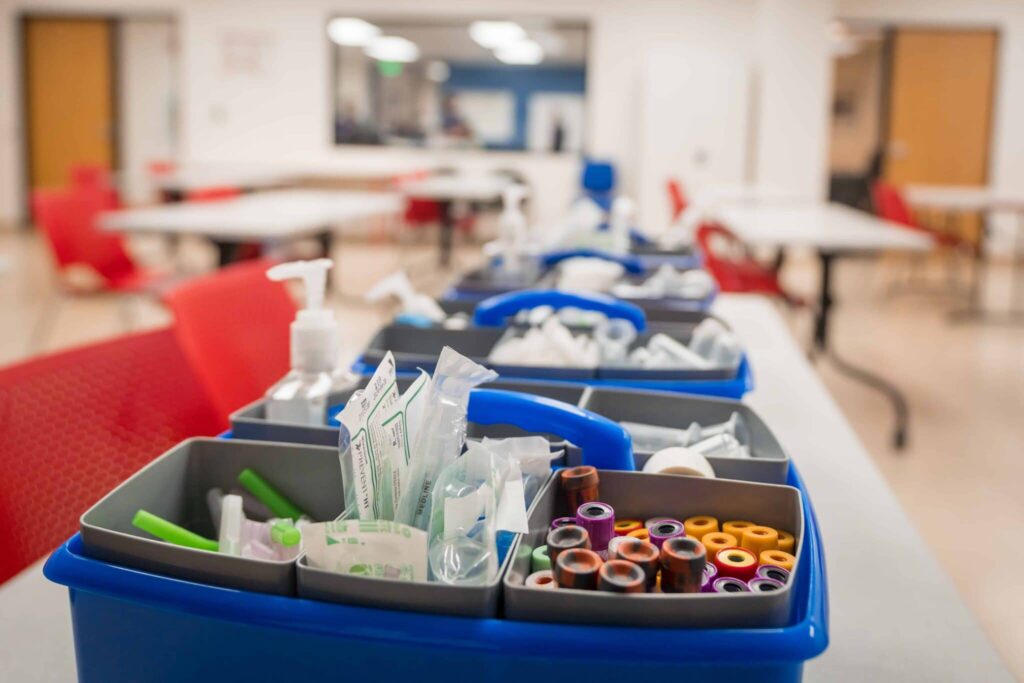 The first thing you need to know about phlebotomy schools in California is that not all are reputable. Many fly-by-night operations will provide accelerated (or even fully online) courses to students. But those schools don't make you eligible for the CPT-1, the license required to practice phlebotomy in the state. If your goal is career-oriented, whether you're entering the field or looking to advance, the best options for phlebotomy schools in California are the ones area employers trust.
Top Options for Phlebotomy Schools in California
California has a lot of options for phlebotomy training; it can be challenging to sift through them all. Below, we've summarized some of the top Bay Area choices to prepare you to take a certification exam and earn your CPT-1.
BAMA Institute is a reputable phlebotomy school with campuses in San Francisco and San Jose. Our curriculum exceeds California Department of Health Standards and provides students with in-depth basic and advanced phlebotomy education. Thanks to our strong connections with employers in the area, our students often find direct opportunities upon completing the program.
Class details:

Costs:

Accreditations:

60 hours of classroom study + 40-160 hours of clinical training

Externship with established healthcare providers like Concentra, UCSF Medical Center, Kaiser Permanente, etc.

Flexible scheduling with monthly start dates, day/weekend/evening options, and completion in 3-5 months

Estimated total cost $3,522.00

0% interest payment plan
With over 300 degree and certificate programs available at various locations, City College of San Francisco (CCSF) provides its students with multiple choices. The phlebotomy program at CCSF is designed to equip students with the necessary skills to take the CPT-1 exam and is compliant with state standards.
Class details:

Costs:

Accreditations:

Spring and fall classes available

The minimum program completion time is 1 semester

Applications are accepted once per year

Lab hours assigned by lottery

$46 per semester unit for residents, $290 for non-residents

Total program size is 6-8.5 units

Accrediting Commission for Community and Junior Colleges
Project Heartbeat is a specialized medical education school that provides training for emergency and first responders. Their mission centers around "Saving Lives Through Education." The school offers many programs, including phlebotomy training, which meets California Health Department standards and leads to various certifications, such as the CPT-1.
Phlebotomy Training Specialists is a school with around 20 locations in California, including one in El Cerrito near the Bay Area. Their accelerated program focuses on obtaining the CPT-1 certification and meets California's health department standards, catering to students with prior experience in the field.
Kaiser Permanente School of Allied Health Sciences offers phlebotomy technician training for CPT-1 exam preparation and other medical-focused career tracks. The program exceeds California Health Department standards and emphasizes CPT-1 certification.
Class details:

Costs:

Accreditations:

320-hour program completed in three months

First 7 weeks: Three 8-hour classes per week

Last 4 weeks: Full-time clinical study

Tuition and fees for Basic and Advanced Phlebotomy programs: $4,687.50

WASC Senior College and University Commission
What Are Bay Area Employers Looking for?
Attending a top phlebotomy school is an excellent start to any phlebotomy career because they're designed to build strong foundational skills. That's what employers in the Bay Area are looking for when they hire phlebotomists. But the reputability of the program isn't all they consider. Most employers want to hire phlebotomy school graduates with the following traits:
Attention to Detail: Accuracy is crucial in any healthcare setting, but it's imperative when blood collection is involved. Strong attention to detail is critical to avoid errors in sample collection and patient identification.
Communication Skills: Phlebotomists interact with patients who may be nervous or confused by the procedure. They have to clearly explain blood collection to patients while sharing essential information with medical staff.
Empathy: Compassion and empathy are important qualities in any healthcare profession; phlebotomy is no exception. You must be able to put patients at ease when they are anxious or uncomfortable during blood collection.
Problem-Solving Skills: Phlebotomists may encounter difficult blood draws or challenging situations. Employers value individuals who can handle such scenarios calmly and find appropriate solutions.
Team Mindset: Phlebotomists represent a link in a large chain of healthcare professionals. Even the ones who work in laboratories or other isolated positions will have to collaborate with others to ensure efficient patient care.
Physical Stamina: One of the essential skills of phlebotomists is stamina! They may be on their feet for extended periods and need to lift or move equipment. Employers prefer candidates who can handle the physical aspects of the job.
If these are traits that you have, then a phlebotomy school in California may be a great option for you. By working with an accredited, reputable training institution, you can expand your career options as you enter this rewarding field.
Bama Institute is one of the top phlebotomy schools in California for career advancement. To learn more, reach out to us.