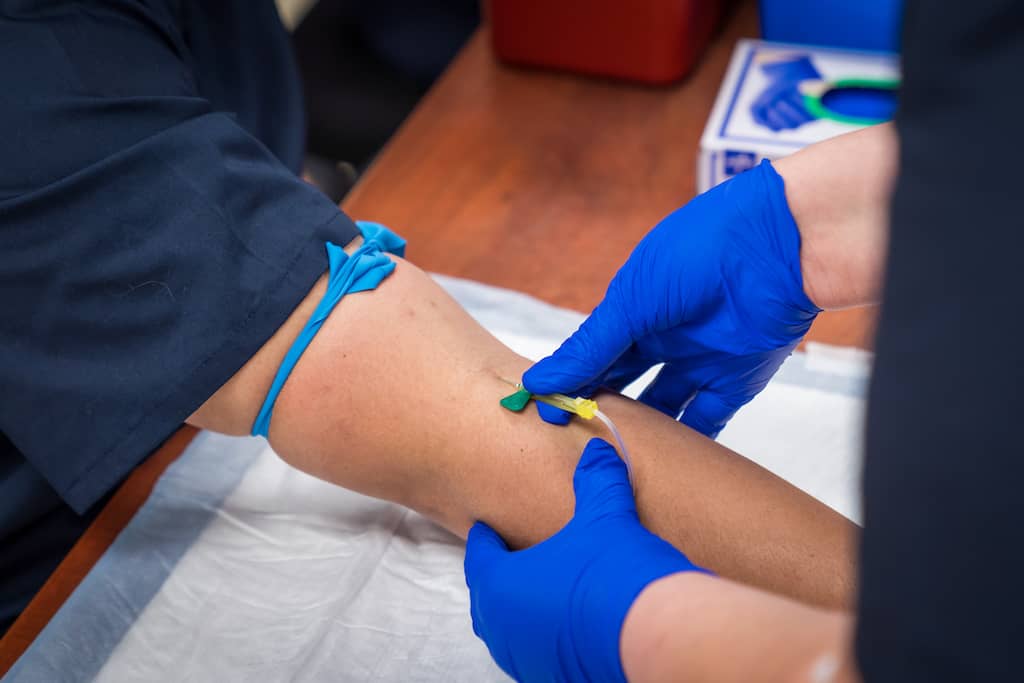 As you start your journey in phlebotomy, you'll encounter three blood drawing methods that you'll use frequently: skin punctures, and venipunctures. Understanding these phlebotomy techniques will be essential to carry out your day-to-day duties. While your phlebotomy education will give you a solid theoretical foundation, only the top-notch programs will help you develop the muscle memory necessary to execute these techniques flawlessly each time.
Mastering the Art of Blood Collection: Essential Phlebotomy Techniques
To be a phlebotomist in California, you must obtain your CPT-1 license. This credential, managed by the California Department of Public Health, Laboratory Field Services division, allows you to carry out two types of blood draws, venipuncture and skin puncture, without the supervision of a doctor. These phlebotomy techniques will make up the majority of your daily activities as a phlebotomist.
| | |
| --- | --- |
| | |
| Venipuncture | Skin Puncture |
| | |
| Venipuncture is the most common technique used by phlebotomists. It involves drawing blood from a vein using either a syringe or a butterfly needle. A syringe is a needle attached to a plastic or glass container used to collect blood, while a butterfly needle is a smaller needle attached to tubing that allows for more precise control of the flow of blood. | Skin puncture, also known as capillary puncture, involves drawing blood from a finger or heel using a small needle or lancet. This technique is typically used when only a small amount of blood is needed, like for glucose or cholesterol testing. |
To qualify for a CPT-1, someone with no experience would need to complete 40 hours of basic and advanced classroom phlebotomy training. This curriculum would cover phlebotomy techniques as well as anatomy, physiology, medical terminology, infection control, and medical ethics and law.
On top of that, they would need to complete at least 40 hours of clinical training in which they perform a minimum of 50 venipunctures and 10 skin punctures. They would also be required to observe arterial punctures.
What Is an Arterial Puncture?
There is a third phlebotomy technique, the arterial puncture, that you may encounter, but as a CPT-1, you will only observe it. This more invasive technique is used to draw blood directly from an artery, but only someone with a CPT-2 license will be able to perform it.
These procedures carry a higher risk of complications than skin punctures or venipunctures, with the biggest one being arterial occlusion or embolism. This means that a blood clot, fat, air, or some other foreign object is blocking an artery and blood flow. This very dangerous medical condition requires immediate attention. That is why arterial punctures are only performed by individuals who hold CPT-II credentials. However, almost every CPT-II phlebotomist was once a CPT-1.
California requires that you hold a current valid CPT-1 certificate or meet all of the certification requirements of a CPT-1 to apply for a CPT-II certificate. You also need to have 1,040 hours of on-the-job experience in the past five years. Finally, you must complete a minimum of 20 arterial punctures.
If your goal is to reach CPT-II, you will first need your CPT-1 license.
Mastering Blood Draws with Externships and Clinical Hours
California only requires 40 hours of clinical training in its criteria for CPT-1. However, 40 hours of clinical training likely isn't enough for an inexperienced person to develop the muscle memory they need to handle the responsibilities of a phlebotomist. The best way to prepare is to attend a program that offers both clinical and externship training.
What's the difference? With clinical training, you'll mainly be working with training models, yourself, and clinical lab partners in a controlled educational environment. The stakes are very low because you'll be supervised and working with people who have the same level of training as you. For some schools, clinical training is all they offer. This can be problematic, as real patients can be unpredictable and may not respond as well to blood draws. To be a confident phlebotomist, there needs to be another layer of training.
That's where the externship comes in. The externship is your chance to work with actual patients, but you're still in a controlled and supervised environment. You gain real-world experience so that you're prepared for your future role.
On top of that, the externship will provide you with a direct path to high-quality healthcare employment. Many externship partners use their programs to find full-time phlebotomists. So, a school that offers externships with area employers will give you a competitive advantage when you're ready to start your career.
Practice is the only true way to master the essential phlebotomy techniques of skin punctures and venipunctures. The more you do them, the better you get. Any good phlebotomy program will allow you to practice these vital techniques again and again so you can take on your future role with confidence.

BAMA Institute offers a detailed program where you will practice these essential phlebotomy techniques during clinical hours and through externships. To learn more, contact an admissions representative.