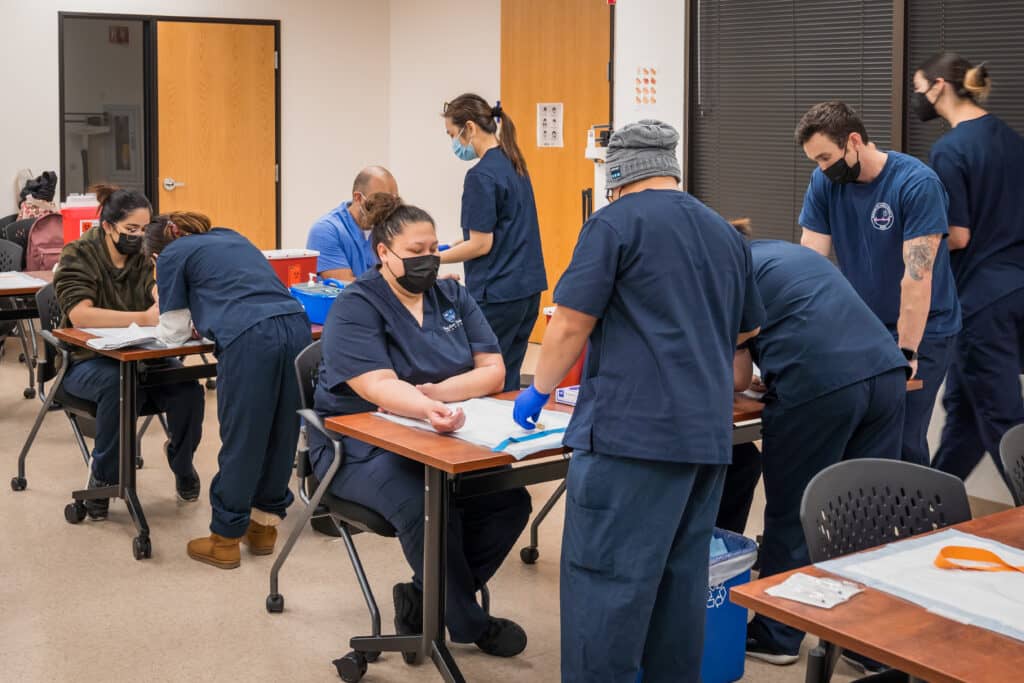 Phlebotomy is a career path that can take you in many different directions. Whether you choose to work in a laboratory, with patients, or in a supervisory role, your CPT-1 license is the ticket to many exclusive positions. As soon as you graduate with your certification, you'll be eligible for many high-paying and rewarding phlebotomy career paths.
Choosing an Area of Focus
There are hundreds of different jobs that branch off of the phlebotomy career path. To make them easier to follow, we can break them down into three categories:
Laboratory: Someone who chooses to pursue this phlebotomy career path will be focused on specimen collection, handling, and processing in a laboratory setting.
Patient-focused: You will work directly with patients to collect blood samples and other specimens for doctors' offices, hospitals, and clinics.
Supervisory: Someone who chooses the supervisory career track will eventually be responsible for managing and overseeing phlebotomy teams, units, or entire departments.
A good way to decide what phlebotomy career path you want to follow is to consider where you see yourself a decade from now. Are you working at a lab? Are you assisting physicians and patients? Or are you running a phlebotomy team? The decision you make now can help determine your career path later.
Phlebotomy Career Paths for the Short- and Long-Term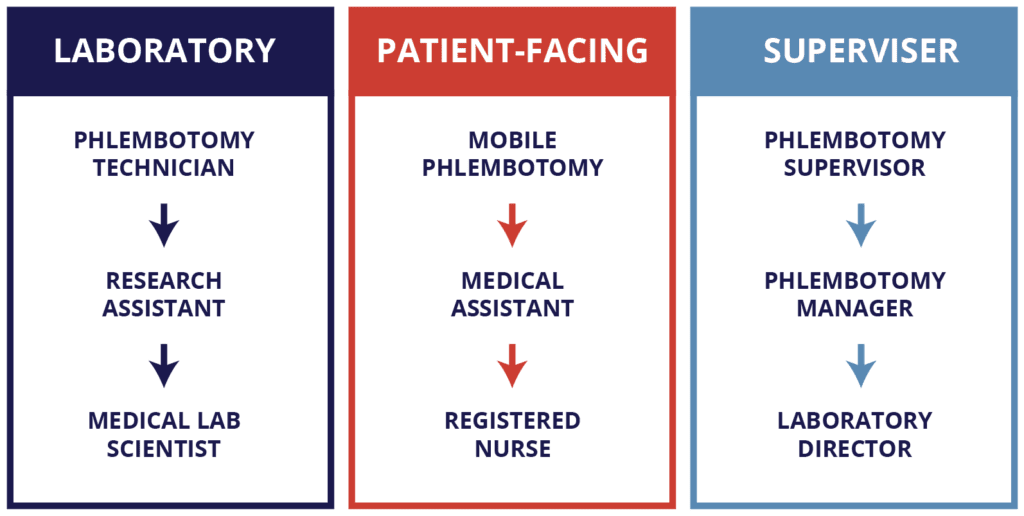 For each of the phlebotomy career paths, there's an entry-level role that will help you set the course for your career. That's not to say that they're inflexible, though. Someone may start as a mobile phlebotomist and eventually become a lab director or a medical lab scientist. However, the below represent examples of common career paths that you will run into as a phlebotomist.
Laboratory Phlebotomy Career Paths
| | | | |
| --- | --- | --- | --- |
| Career | Duties | Requirements | Estimated Salary |
| Phlebotomy Technician(entry-level) | Collects blood and other specimens from patientsLabels and processes specimensEnsures specimens are handled safely and properlyMay assist with preparing samples for analysis and maintaining laboratory equipment and supplies | High school diploma or GED, completion of a phlebotomy training program, and a CPT-1 license | Median Bay Area pay of $24.22 per hour |
| Research Assistant(mid-career) | Collects and analyzes data for scientific researchersManages research projects and communicates resultsRecruits study participants and takes histories | Typically requires a bachelor's degree or higher, but entry-level positions may be available with CPT-1 | Median salary of $57,760 per year. |
| Medical Lab Scientist(experienced) | Performs complex laboratory tests and analyses on patient samplesInterprets test results and troubleshoots laboratory equipmentDevelops and validates laboratory procedures | Medical lab scientists typically have a bachelor's degree in medical laboratory science or a related field and are certified by a national certification agency. | $57,380 median salary |
Patient-Focused Phlebotomy Career Paths
| | | | |
| --- | --- | --- | --- |
| Career | Duties | Requirements | Estimated Salary |
| Mobile Phlebotomy(entry-level) | A mobile phlebotomist travels to patient homes or workplaces to collect blood and other specimens.Ensures the proper labeling, handling, and transport of specimens to the laboratory for analysisKeeps accurate records of specimens collected | High school diploma or GED, completion of a phlebotomy training program, and a CPT-1 license | $50,416 average per year in San Francisco (as of May 16, 2023) |
| Medical Assistant(mid-career) | Records patient history and personal informationMeasures vital signs such as blood pressure, temperature, and weightAssists healthcare providers during medical exams and procedures | Usually requires additional education, like a Certified Medical Assistant credential. | Average starting salary of $44,000 |
| Registered Nurse(experienced) | Assesses patient conditions and educates patients and familiesAdministers medications and treatmentWorks closely with physicians and other healthcare professionals to develop and implement care plans, monitor patient progress, and coordinate patient care | A degree in nursing, and successful completion of the National Council Licensure Examination for Registered Nurses | Average annual salary of $89,010 |
Supervisory Phlebotomy Career Paths
| | | | |
| --- | --- | --- | --- |
| Career | Duties | Requirements | Estimated Salary |
| Phlebotomy Supervisor(early career) | Manages and oversees the daily operations of a phlebotomy department or unitSupervises phlebotomy staff and ensures they are trained and competent in their dutiesMaintains quality control and safety standards for specimen collection and handling | Experience in a phlebotomy role for 2+ years | $56,000 per year |
| Phlebotomy Manager(mid-career) | Responsible for managing the overall operations of a phlebotomy department or laboratoryOversees phlebotomy staff, ensures regulatory compliance, and manages budgetsDevelops and implements policies and procedures to ensure high-quality patient care and laboratory operations | Experience in phlebotomy, management skills, and a bachelor's degree in a related field | Around $65,000 per year |
| Laboratory Director(long-term) | Oversees the overall operations of a laboratory, including phlebotomy servicesManages laboratory staff, ensures compliance with regulatory requirements, and manages budgetsCoordinates with physicians and other healthcare professionals to ensure accurate and timely laboratory results | Master's or doctoral degree in a related field and significant experience in laboratory management | Around $156,081 per year |
When you obtain a CPT-1 from a respected, accredited school, the possibilities for success are limitless. By choosing a school known for producing high-quality, confident graduates, you'll have the knowledge and skills to forge your path in the exciting and rewarding field of phlebotomy.
BAMA Institute is a known and respected provider of healthcare education and can help you forge the phlebotomy career path of your dreams. To learn more about our program, contact an admissions representative.