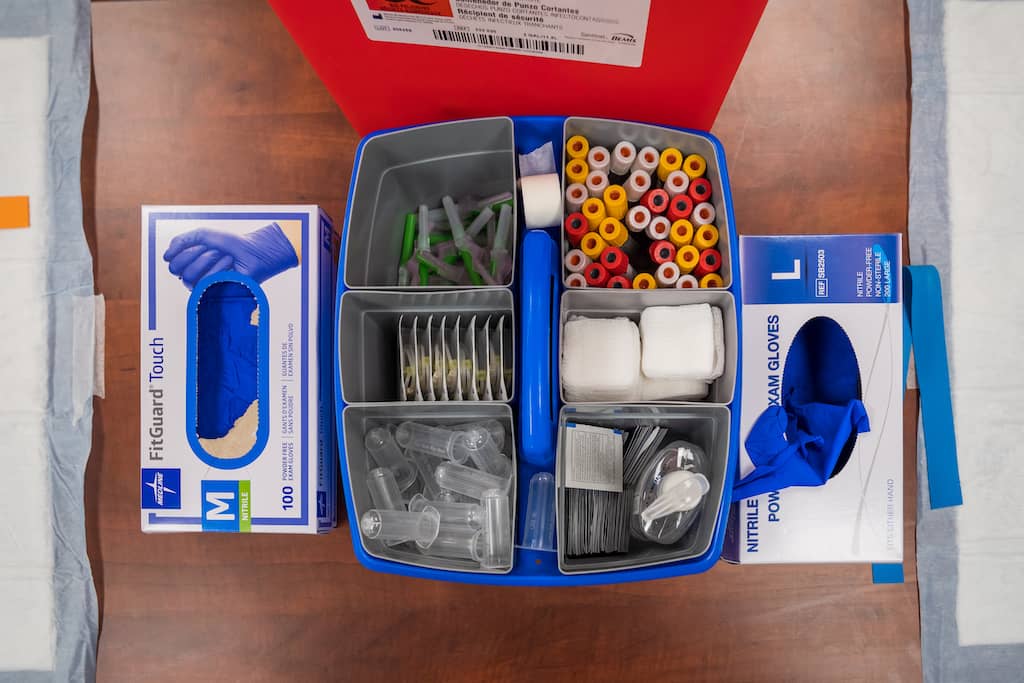 Students entering the phlebotomy field will come across two types of essential equipment in their everyday jobs—the tools that your employer will provide to you as you practice taking blood from patients and preparing it for testing, and the items that you will need to bring yourself—though your school may provide some of these items while you're in training.
Here's a brief rundown of the equipment needed for phlebotomy and what you're expected to bring.
An Introduction to Equipment Needed for Phlebotomy
A phlebotomist's duties include taking blood samples from patients, labeling them, and preparing them for testing. There are seven different pieces of equipment that you'll likely run into and will be expected to know inside and out:
Needles and lancets: Needles and lancets are very similar but not identical. A needle is a hollow metal tube used in blood draws that comes in different sizes ranging from 18 to 23 gauge. A lancet is a small disposable instrument that's used for finger prick-type blood testing. Lancets may come with a disposable cartridge or may be used in a device that looks like a pen to help control needle prick depth.
Syringes: A syringe is used to collect the blood from the patient and includes measurements on its side. A plunger on its inside is used to draw blood or push out fluids when a person is receiving an injection. Syringes come in multiple sizes ranging from around 3 to 10 mL.
Tubes: Tubes are used to store and transport the collected blood from the patient. There are different types of tubes designed for different collection methods. There is also a system for quick identification based on the color of the cap.

Red:

Serum testing

Blue:

Plasma testing

Purple:

Ethylenediaminetetraacetic acid (EDTA) testing

Green:

Heparin testing

Yellow:

Blood culture testing

PPE: PPE stands for Personal Protective Equipment. It refers to any equipment or clothing designed to protect an individual from potential hazards in their workplace or other environments. The most common piece of PPE a phlebotomist uses is gloves, though face masks fall into this category as well.
Sharps containers: These are containers that are used to get rid of contaminated needles, lancets, scalpels, and other sharp instruments. They are clearly marked with biohazard symbols and are made of puncture-resistant plastic.
These are the tools that your employer will provide for you every single day. While you're still in school, your institution should also be providing this essential equipment for phlebotomy. However, there are a few things that you may need to supply for yourself.
What Phlebotomy Equipment Students Need
While some employers and schools will provide most of the phlebotomy equipment that is needed, there are a few items that students may have to bring themselves. Here is some equipment that phlebotomy students may be responsible for providing as they train and start their careers:
Scrubs

Scrubs are standard wear in the healthcare industry because they're comfortable, affordable, and easy to clean. However, don't go crazy buying scrubs before you choose your school or employer. Your future employers may have color coding systems in place so you can tell which department someone works in by the color of their scrubs. At BAMA Institute, we provide the scrubs that students wear during our phlebotomy technician course.

Stethoscopes

Students will need a stethoscope to learn how to locate veins. Of course, the types and costs of stethoscopes can widely vary. A basic beginner's scope is usually sufficient for phlebotomy training. This is another item that BAMA Institute provides to students.

A watch with a second hand

This is a very easy one for phlebotomy students to overlook. You will need to be able to time your blood tests accurately. Unfortunately, a lot of modern fashion watches come without second hands. It's wise to get a sturdy, affordable watch that you can use to time your blood draws.

Close-toed shoes

Every employer will have different rules relating to footwear, but none will allow open-toe shoes to be worn. In a phlebotomy environment, you should wear closed-toe, comfortable shoes with nonslip soles. Because shoe sizes can vary so widely, this equipment is rarely provided.
Most of the essential equipment needed for phlebotomy students will be provided for you. If you will need to provide something, then it's very likely that your future employer or institution will explain that to you. At BAMA Institute, we provide the majority of the equipment phlebotomists need so they can concentrate on their training.

BAMA Institute can help you become an expert in the essential equipment needed for phlebotomy as you pursue your training at our highly respected institution. To learn more about our programs, reach out to an admissions representative.