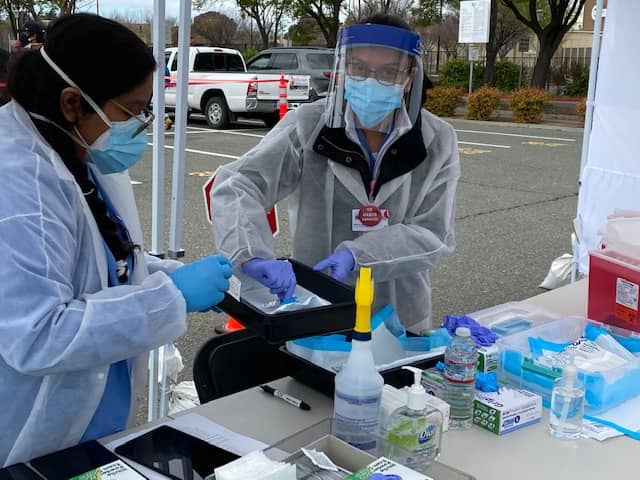 Phlebotomy can be a very flexible career. With a certification that's relatively fast to achieve, you can significantly expand your employment options. Whether it's contract work or a part-time position, there are many ways that you can schedule your work around your personal life. So yes, you can be a part-time phlebotomist! There are quite a few ways to do this with the right training.
Can You Be a Part-Time Phlebotomist? Flexible Career Options
When someone asks if you can be a part-time phlebotomist, what they're usually looking for is flexibility. They want to take on a position that allows them to control their schedule and possibly even pick their clients. These phlebotomy jobs aren't necessarily part-time; they may also be contract work.
Part-Time
Contract
• Defined by the Bureau of Labor Statistics as someone who works between one and 34 hours per week.

• Activities will be completely directed by the employer.

• Rights and responsibilities are similar to those of a full-time worker.

• Schedule and salary are relatively easy to predict, though a part-time worker would not have the ability to direct their day as a contract phlebotomist would.
• Schedule and pay are defined by an agreement between the worker and the employer. Three criteria must be met to qualify as an independent contractor in California:

• Control: The worker has complete control over how the task is done.
• Business: The worker performs tasks outside of the hiring entity's business.
• Independent: The worker is engaged in an independently established trade, occupation, or business of the same nature as the work performed for the hiring entity.

• Compared to other states, California's independent contractor rules are strict, so this status likely won't be used for traditional hospital or clinic phlebotomist positions.
Just about all full-time phlebotomy positions will have a part-time counterpart to handle overflow work or periods of high demand. Weekend and night shift work are common for part-time phlebotomy positions.
In terms of contract work, mobile phlebotomy is an excellent example. In this, the worker receives blood draw requests from insurance companies, diagnostic centers, and other businesses. The worker then travels to the patient to take their blood and bring it to a lab. As contract workers, they have a lot of flexibility in what jobs they take, where they travel, and how often.
There are a lot of pros and cons to both part-time and contract phlebotomy. Contract work can give you freedom, allow you a lot of control over your schedule, and even set the stage for you to build your own business. It also helps you gain blood draw experience if your goal is to eventually work full-time as a phlebotomist at a hospital or clinic. These positions sometimes require one to two years of blood draw experience, and working as a mobile phlebotomist is a good way for new phlebotomy graduates to gain the necessary blood draw experience. Part-time phlebotomy offers you federal and state employment protections and other benefits that full-time employees also receive. Either can be a great option for somebody who needs flexibility.
Choosing the Right Program for Success
At the most basic level, what you need to be a part-time phlebotomist is a CPT-1 license. This is managed by the California Department of Public Health, Laboratory Field Services. Applicants must complete a state-approved phlebotomy training program, pass an exam, and demonstrate competency by completing at least 50 successful venipunctures and 10 skin punctures before they can take on the responsibilities of a phlebotomist.
Many schools offer programs that meet these requirements, but you must also consider the reputation. Part-time phlebotomy positions can be very autonomous—you may be expected to direct your day with little or no supervision. Someone hiring for such a position is going to heavily consider the reputation of the school in which you obtained your training. If they're not familiar with it, or if it's not known for yielding the best graduates, it's likely the hiring manager will move on to someone else.
So how do you vet the reputation of a California phlebotomy program? Here are some things to look at:
Program length: A program that churns out phlebotomy graduates in under a month may seem appealing at first glance, but it's important to consider the quality of education you'll receive. Many phlebotomy skills are based on muscle memory and repetition. A program of about three months will allow you to practice those skills enough to perform them like they're second nature.
Externship access: To receive a phlebotomy license, you will need actual work experience. A school with a strong reputation will have externships available with some of the area's top employers. These employers are the ones most likely to have both contract and part-time phlebotomy positions available.
Career services support: It's not uncommon for medical providers to not publish their open positions. Instead, they work directly with the schools they trust to obtain the phlebotomists they need. Your program should have a career services department to help you find these opportunities.
School longevity: It may be surprising to learn that California only started requiring the CPT-1 in 2003. Before that, there were a lot of fly-by-night operations that weren't giving students any standardized training. Some of the more reputable phlebotomy training institutes—BAMA Institute included—worked together to encourage the state to develop a standardized program. Schools involved in this initial development are the ones with the strongest reputation among area employers.
You can be a part-time phlebotomist in California, but the reputation of your program will play a big role in how employable you are. By choosing a school with an established reputation and a lot of connections, you'll be a much more attractive candidate for flexible part-time and contract phlebotomy jobs.
BAMA Institute is a trusted phlebotomy training school that works with a wide range of the best area healthcare employers. If being a part-time phlebotomist is your goal, we have the reputation and connections to help. To learn more, contact an admissions representative.