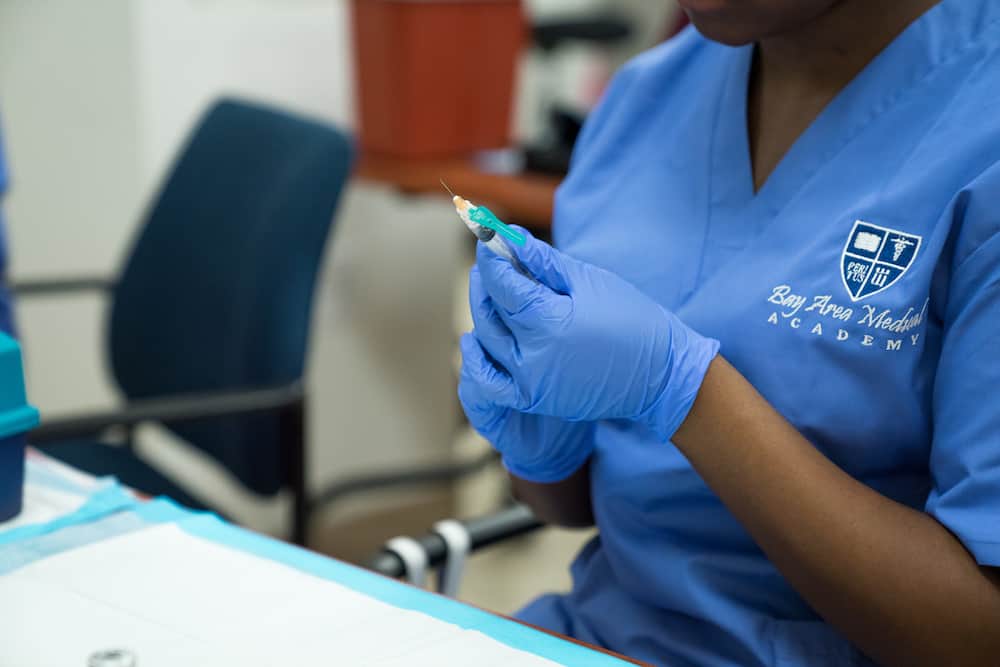 What jobs can you get with a phlebotomy certificate? The most obvious one is phlebotomist, but there are dozens of ways that skill can be applied. Whether you work in a laboratory, hospital, or clinic, or if you specialize in a certain field, your phlebotomy certificate prepares you for many different career paths. If you want to expand your skills even further, you can look into becoming a medical assistant with a phlebotomy certificate.
What Jobs Can You Get With a Phlebotomy Certificate?
To work in phlebotomy in California, you must obtain your phlebotomy technician credential from the state. There are three levels:
Limited Phlebotomy Technician (LPT): Skin puncture blood collection only.
Certified Phlebotomy Technician I (CPT I): Skin puncture and venipuncture blood collection.
Certified Phlebotomy Technician II (CPT II): Skin puncture, venipuncture, and arterial puncture blood collection.
Most phlebotomists operate under the CPT I certification. The LPT is too limited for anything but basic work, while the CPT II is only needed for certain specialties and requires extensive phlebotomy experience.
Aside from a phlebotomist position, there is a range of jobs you can get with a phlebotomy certificate. After all, the skills required to complete blood draws and handle samples are transferable to a few other positions. Some include:
Medical lab technician: Blood requires preparation for most tests, often through centrifugation and aliquoting, which are both processes used to separate blood into smaller components. Lab techs prepare samples for testing and assist in their analysis.
Phlebotomist supervisor: Phlebotomists interested in management could consider following a phlebotomist supervisor career path. These individuals will oversee a team in a healthcare center or hospital. They may still work on the floor in phlebotomy and monitor blood draws and other duties, though a good portion of their tasks will be administrative.
Traveling phlebotomist: A traveling phlebotomist, also known as a mobile phlebotomist, may work for themselves as an independent contractor or may work for a mobile phlebotomy provider. They'll go to patients to collect blood and transport it for analysis and testing. This job is a bit more independent, so individuals who like to travel and are very self-directed will do well in this role.
Platelet-rich plasma therapy: In recent years, platelet-rich plasma (PRP) therapy has become popular for the treatment of certain conditions like muscle and tendon injuries and even hair loss. Doctors may complete the injections, but they need the aid of an assistant to prepare the blood. This is where someone with a phlebotomy certificate will be invaluable. Dentists, dermatologists, and plasma donation centers often utilize phlebotomists.
Donor center technician: A donor center technician is in charge of handling blood donations and assisting in the collection, cataloging, testing, and storage of blood. They may also screen donors for suitability.
These aren't the only jobs that you can get with a phlebotomy certificate. There are many ways to specialize in the field. Or, you can expand your skills and go on to be a medical assistant!
Expanding Your Skills With Medical Assisting
Medical assisting (MA) is a common career path for phlebotomists. Skills related to handling patients, discussing treatment plans, and assisting physicians are easily transferrable. The MA career path is also a little broader, laying the baseline for many other positions.
While a phlebotomy certificate prepares you for only the positions on the laboratory side, a program like BAMA's 3-in-1 Medical Assisting With Phlebotomy prepares you to move into all three categories. It's a far better jumping-off point for individuals who want to continue their training to become registered nurses, respiratory therapists, clinic managers, and more.
Make the Right Choice in Your Healthcare Training
What jobs you can get with a phlebotomy certificate will also depend on your training. These programs will require clinical hours, so area healthcare providers will be familiar with the expertise of students from different schools. Choosing an established, reputable program will give you access to the more discerning employers who pay at the top of the scale.
BAMA Institute offers a California Department of Health-approved phlebotomy training program that area employers trust. To learn more, reach out to an admissions rep.