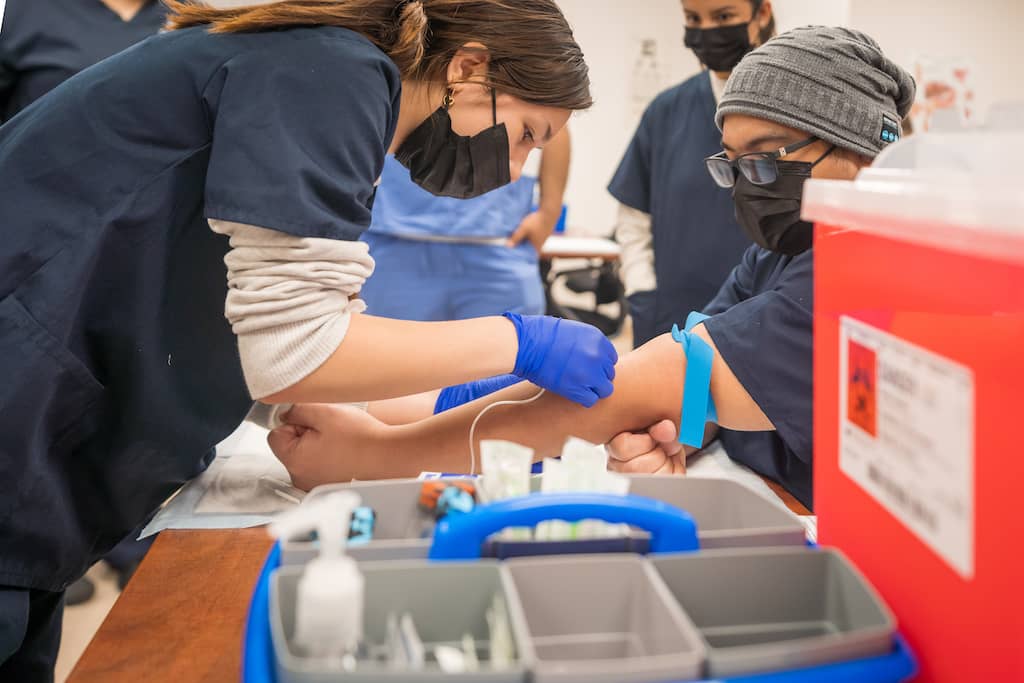 Certified phlebotomy technicians have many options when it comes to their career paths. Their unique skill set allows them to work directly with patients, in laboratories, or in leadership roles. The path you take is up to you, and it depends on the education you choose to pursue. With the right foundation, you can start an amazing career filled with opportunities.
3 Paths to Career Advancement for Phlebotomists
The CPT-1, the license that you must have in California to be a phlebotomist, can act as the jumping-off point for three different career paths. You can work in a laboratory handling blood samples or in a patient-facing position focusing on blood collection, or you can target supervisory positions as you gain experience in your role.
Laboratory
Patient-Facing
Supervisory
Laboratory phlebotomists work in clinical labs, collecting blood samples from patients and processing them for further testing. Additional duties might include preparing specimens for testing, analyzing results, and maintaining lab equipment.
Best for: Individuals with technical skills and strong attention to detail.
Possible careers Medical Lab Technician (MLT) Hematology TechnicianLaboratory Support TechnicianClinical Research Phlebotomist
Patient-facing phlebotomists work directly with patients in hospitals, clinics, and other healthcare settings. They collect blood samples, explain the procedure to patients, and ensure that they're comfortable.
Best for: Empathetic individuals with strong communications skills.
Possible careers: Phlebotomy SpecialistTraveling Phlebotomist Donor Phlebotomy SpecialistPediatric Phlebotomist
Supervisor phlebotomists manage a team and oversee laboratory operations. They are responsible for training new employees, enforcing compliance with laboratory protocols and safety regulations, and managing budgets and inventory.
Best for: Individuals with leadership skills and the ability to manage a team.
Possible careers: Insurance Examiner Senior PhlebotomistLab SupervisorLaboratory Services Manager
Growing Beyond Phlebotomy with Advanced Career Options
Phlebotomy doesn't have to be a standalone career. You can use that one skill set as a jumping-off point into many others. EMTs are a good example. These individuals have to be able to take blood and complete venipunctures and other phlebotomy tasks as part of their roles. Working as a phlebotomist first can help them determine if the EMT role is one they want to pursue. Holding an active CPT-1 license would also make them a more attractive candidate for any other advanced training program.
Another advanced career path that some choose to follow is to become a registered nurse. This is an expensive, intensive, and long program. Getting a phlebotomy credential first could make you a more attractive candidate for training programs and can help you determine if it's the right career path for you.
Holding a CPT-1 doesn't limit you to phlebotomy. With additional training and credentials, you can go into a wide range of advanced healthcare fields that are rewarding and high paying.
How to Set Yourself Up for Success
Career advancement for phlebotomists depends on their education. Phlebotomy is something most won't learn on the job—they will need to attend a training program. That's why many area employers make their decisions based on the reputation of the school that you attend for your phlebotomy certification. This is what you should look for as you consider your options:
Accreditation: Accreditation is the stamp of approval for a phlebotomy program. It ensures that the school meets quality standards established by the state of California for providing CPT-1 licenses.
Curriculum: Many fly-by-night operations will promise to get you your CPT-1 quickly, but they don't provide what you need to truly be successful in the job. Look for a phlebotomy program that covers all the necessary topics and skills, such as anatomy and physiology, medical terminology, venipuncture, and skin punctures.
Externships: The school should offer hands-on clinical experience in a medical setting to provide practical, real-world training. This will prepare you for your future career and make you a more competitive job candidate. This is another good quality control measure because the best schools will work with the best employers.
Reputation: Research the school's reputation, student outcomes, and reviews. Talk to current and former students, read online reviews, and check the school's graduation and job placement rates.
Cost: Consider the cost of the program, including tuition, fees, and any additional expenses such as textbooks, scrubs, and certification exam fees. Ensure that the cost of the program is reasonable and fits your budget.
Your career advancement as a phlebotomist depends on the quality of the education you get when you first enter the field. It's where you learn those foundational skills that will help set you up for success as you move into higher positions. Work with a school with strong ties to the community, a detailed curriculum, and a strong reputation so you are prepared to be a competent and confident phlebotomist.

BAMA Institute can help open up your opportunities for career advancement as a phlebotomist by providing you with a well-respected and detailed education that will connect you with some of the area's best employers. To learn more, reach out to an admissions representative.