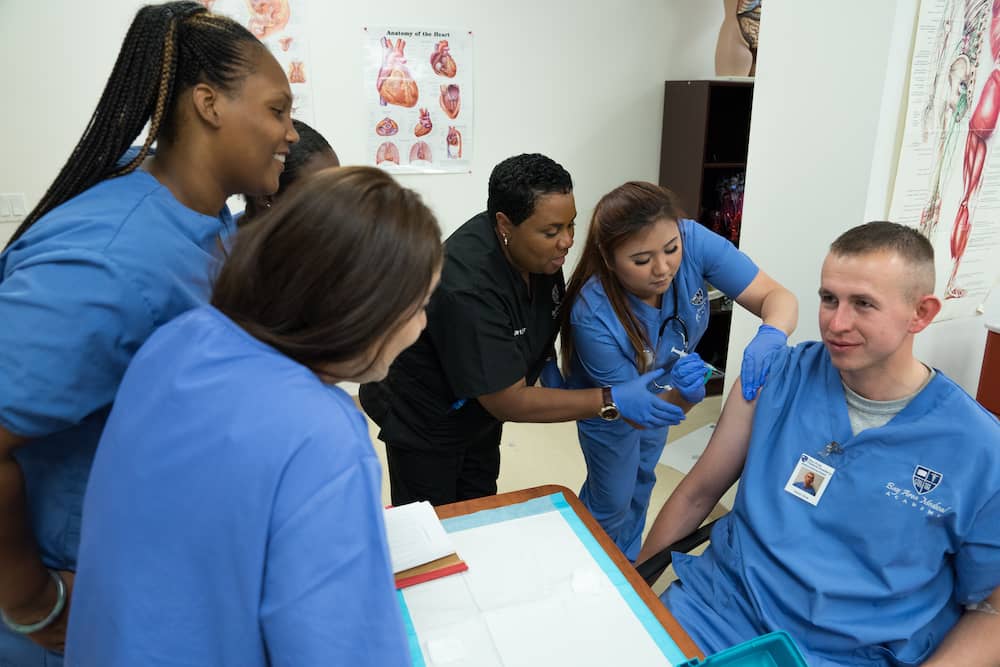 In California, how long it takes to become a phlebotomist will depend on the specific school you go to. The state's requirements for phlebotomy certification are more based on the experience you receive over the hours spent in the classroom. In general, you can expect to spend four to twelve weeks in training. However, when selecting a program, you should consider the program that will make you a confident phlebotomist.
How Long It Can Take to Become a Phlebotomist in California
Most California phlebotomy programs can take between four to twelve weeks to complete, but it depends on the school. Accelerated courses may try to squeeze in California's bare minimum requirements in the shortest period. An approved phlebotomy program will meet the following minimum classroom, clinical, and practical training standards for someone with no on-the-job experience:
40 hours of classroom training on basic and advanced phlebotomy
40 hours of phlebotomy clinical practice, including at least 50 venipunctures, 10 skin punctures, and observation of arterial punctures
If you do have on-the-job phlebotomy experience, there's some room to reduce the hours of classroom training required for certification. You may also be able to use some of that on-the-job experience to meet clinical requirements. For those individuals, a phlebotomy refresher course can help them get their certification even faster.
At BAMA Institute, our full phlebotomy technician course is broken down into 60 hours of classroom training and 40 to 160 hours of clinical practice in an externship. Our refresher course is shorter and is based on that student's specific experience. In either case, our program exceeds California standards. We know that's the best way to create competent phlebotomists and set them up on the path to success.
Why the Shortest Phlebotomy Program May Not Offer the Best Preparation for Becoming a Phlebotomist
Some students are in a hurry to get started in their new careers. The phlebotomy programs they're drawn to may have a very short training period—sometimes only a couple of weeks. While that may sound appealing, you must consider the type of education you're getting.
You should also consider what that type of program may be missing. At BAMA Institute, a thorough training period translates to more confidence and experience on the job and a lot of long-term benefits for our students. That includes:
Professionalism: Most students come to us very nervous about completing blood draws for the first time. The only way to build your confidence is through successful repetition and learning the finer points of the process. Completing these procedures until they are second nature will make you very confident in your ability to perform professionally in a clinical setting. That kind of preparation typically isn't possible in a shorter program.

Reputation: While not all accelerated programs are like this, some are designed to collect tuition and churn out as many graduates as possible. As a result, the school gains a reputation for graduating low-performing students. A well-respected program is more likely to have a detailed curriculum known for producing competent phlebotomists.

Employability: All students will need clinical experience to gain their certification. Some of the best schools do this through externships where they connect students with area healthcare employers who will guide them as they practice their skills. This can result in direct placement when the externship is over. A shorter program that lasts only a couple of weeks is unlikely to provide the same networking opportunities.

Community: At BAMA Institute, we consider our community our biggest asset. Our students work together and with their teachers as well as our career counselors and placement specialists to make sure everyone reaches graduation day. Students and teachers have time to get to know each other, and our sense of community is something we foster long-term. Our alumni often come back to the school to renew their phlebotomy certificates, refresh their skills, or visit their favorite instructors.

On-campus events for students and graduates: Employers regularly visit BAMA to meet and interview graduates and current students as well as to offer information about jobs at their medical facilities. These events allow employers to meet one-on-one with qualified candidates who are pre-screened according to criteria provided by the employer. These informal presentations enable BAMA graduates and students to speak directly with employers about the scope and demands of jobs as well as relevant skills and attributes.
When considering how long it takes to become a phlebotomist in California, you shouldn't focus on how quickly you can get it done; instead, you should focus on the quality of education that you'll get. A school with a strong reputation and community will give you the confidence and help you build the professionalism you need to succeed in your career.
BAMA Institute offers full phlebotomy programs, as well as an accelerated refresher course for experienced students looking to become phlebotomists in California. To learn more about our career-focused programs, reach out to an admissions representative.