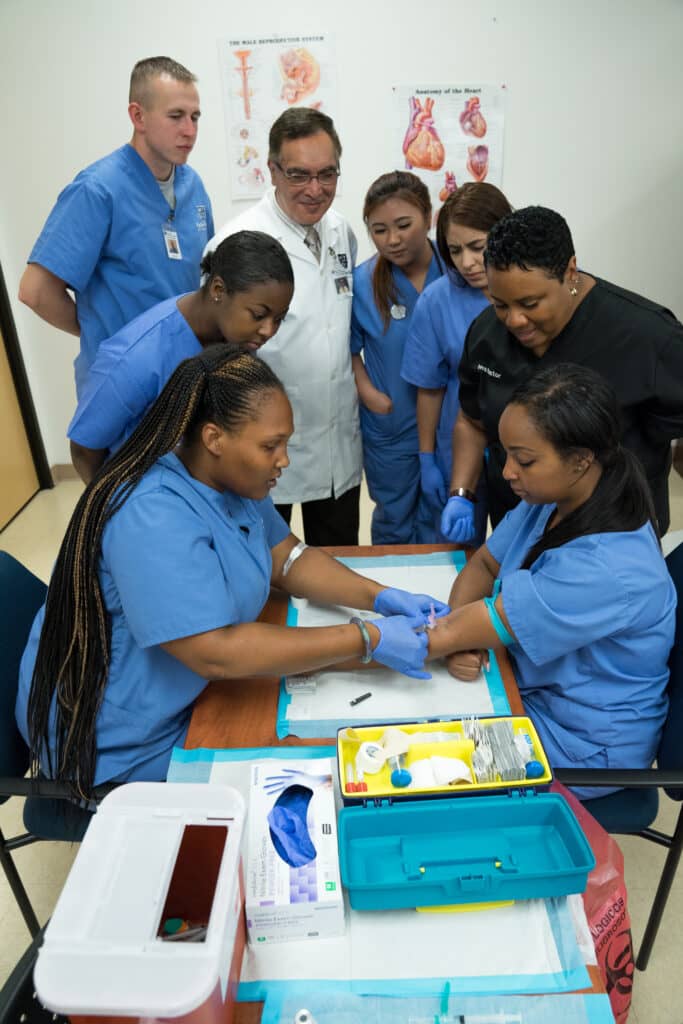 How much do phlebotomists make in California? These certified professionals earn anywhere from $34,000 to $52,000 per year depending on their education, experience, and job responsibilities. Individuals who've been in the industry for a long time or have specialized skills can make even more than that.
There are a lot of different factors that go into a phlebotomist's salary. While you can get a general idea of pay by looking at national and state averages, your best bet is to review different types of phlebotomy jobs. That can give you a good idea of where you want to go with your training.
How Much Do Phlebotomists Make in California?
California requires that all individuals who draw blood from patients to be certified in one of three levels. The type of certification you hold will also affect your earning capacity.
| | | |
| --- | --- | --- |
| | What is required? | What can they do? |
| Limited Phlebotomy Technician (LPT) | Applicants must hold a high school diploma, GED, or foreign equivalency and attend an accredited training program that includes: 20 hours of basic classroom training in phlebotomyThe completion of at least 25 skin punctures that meet standards for clinical testing and examinations | An individual holding an LPT in California is only authorized to complete skin puncture blood collection (i.e. fingersticks). This license does have its uses; for example, for a pediatric medical assistant who needs to be able to take basic samples in the office. This is a basic "limited" license and is excluded from the salary range for phlebotomy practices. |
| Certified Phlebotomy Technician I (CPT I) | Applicants must hold a high school diploma, GED, or foreign equivalency and attend an accredited training program, though the length of that training will depend on their level of on-the-job experience. A phlebotomist with no experience would have to attend a training program that includes:40 hours of basic and advanced classroom training in phlebotomyThe completion of 40 hours of clinical practice that includes 50 venipunctures, 10 skin punctures, and the observation of arterial puncturesThey would also have to pass a national certification examination from an approved agency. | A CPT 1 certification allows you to complete all of the standard job duties of a phlebotomist in the state of California, which includes both skin punctures and venipunctures. EMTs or medical assistants may obtain this certification to supplement their job skills. More often, individuals choose to work specifically as phlebotomists in hospitals, clinics, laboratories, and even on the road. The CPT I license is the best way to start a phlebotomy career. BAMA Institute's Phlebotomy Technician Course is specifically designed with this goal in mind and is an approved training program that exceeds the California Department of Public Health's standards.   |
| Certified Phlebotomy Technician II (CPT II) | Applicants must hold a high school diploma, GED, or foreign equivalency and attend an accredited training program. They must also meet the following criteria: Hold an active CPT I or meet CPT I certification requirementsHave at least 1040 hours of on-the-job phlebotomy experience within the past five yearsComplete 20 arterial punctures that meet standards for clinical testing and examinationA national certification examination is also required to obtain the CPT II. | CPT II certification adds arterial punctures to the list of approved procedures. This means that the needle is inserted into the artery, usually in the wrist, or more specifically the radial artery. These draws are usually done for blood gas analysis, so it's something that you'll see more often in respiratory specialties. As it requires extensive experience, most people who apply will already be actively licensed phlebotomists. It's also a great skill for respiratory technicians to consider. |
Phlebotomists who make $32,000 to $52,000 per year usually have a CPT I certificate, at a minimum. The higher the credential, the higher the pay. However, a CPT II is not the only—or even best—way to maximize your earning potential.
For that, you might consider looking into specialized fields of phlebotomy. Some offer higher pay because they require specialized skills, while others offer benefits outside of salary, like the opportunity to travel and work more independently.
Increasing Earning Potential as a Phlebotomist in California
Specialties that require unique skills or knowledge may have much higher pay rates. Here are a few to consider.
| | | |
| --- | --- | --- |
| Traveling Phlebotomist | | A traveling phlebotomist will visit homebound patients or those in residential care facilities without onsite services. They may even work in a mobile phlebotomy laboratory. A traveling phlebotomist makes an average base salary of $40,864 per year in California, according to Salary.com. They may also receive benefits like reimbursement for travel expenses, mileage, vehicle wear and tear, and more. |
| Blood Donor Phlebotomists | | A blood donor phlebotomist may work with a specific blood bank or travel to specific sites performing venipunctures for blood donation. They are also referred to as blood bank technicians. An average salary of a little under $40,000 per year is reported. |
| Forensic Phlebotomist | | If you're interested in criminal justice, then forensic phlebotomy may be the choice for you. This position involves the collection of evidentiary blood samples. These specialists make an average of $63,533 per year, based on ZipRecruiter estimates. |
| Phlebotomy Supervisor | | This is more of an administrative position where the individual is responsible for managing all blood draw-related operations of the laboratory. A national average of $56,000 per year is reported, with higher salaries reaching $80,000+. |
| Insurance Examiner Phlebotomist (also known as Paramedical Examiner) | | Insurance companies may employ traveling phlebotomists to complete blood collection for insurance exams. The phlebotomist will travel to the applicant's location, collect their blood, and then bring it in for laboratory testing. The national average for this position is reported to be $45,000 per year. These positions may also offer travel, mileage, company vehicles, and other non-salary related benefits. |
These aren't the only options for maximizing your pay as a phlebotomist. You may choose to go on and get advanced training for professions such as a medical assistant, registered nurse, or an EMT. A phlebotomy certification can be a career in and of itself or it can lay the groundwork for a further career in healthcare later on.
BAMA Institute: Preparing You for a Rewarding Career
How much phlebotomists make in California often depends on their selected training programs. While there are many basic programs out there that focus on the bare minimum for certification, they may not be the most reputable when it comes to higher-paying employers. This is also a high-responsibility position, so you want to make sure you get the training you need to be confident in your day-to-day tasks.

BAMA Institute offers a comprehensive phlebotomy program and externship opportunities with over 100 area employers who rely on our graduates every single day. To learn more or get started, contact an admissions representative.