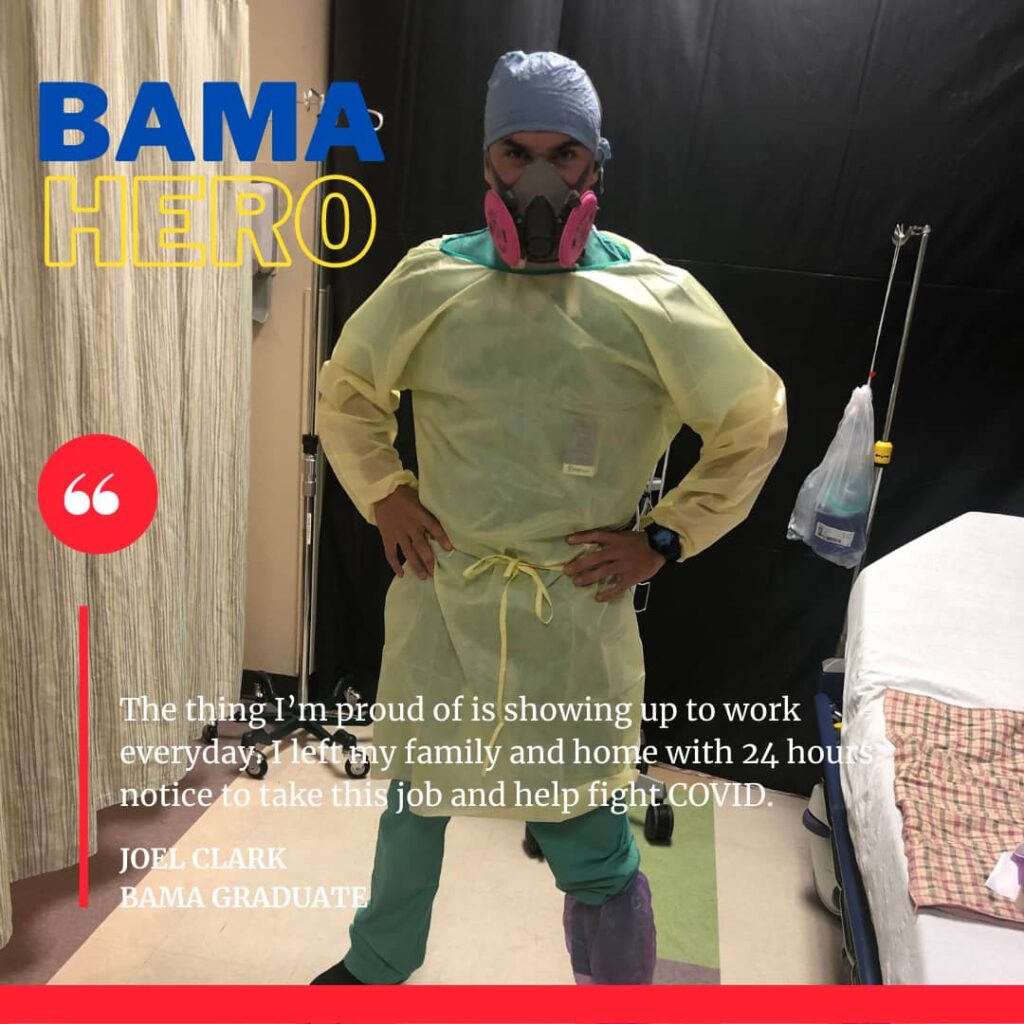 At Bay Area Medical Academy and BAMA Institute, we believe education helps transform lives—both for the individual and for their families and communities—which is why we're delighted to introduce our new series, BAMA Heroes.
In this installment, we meet BAMA Hero: Joel Clark who gives us a sneak peek into day to day life in an ER unit at a hospital in Texas, on the frontline during the COVID-19 pandemic.
Q: Tell us a little bit about where you work.
JC: I work at Doctors Hospital at Renaissance, located in McAllen, Texas.
Q: How long have you worked there?
JC: This is an emergency deployment through a staffing company. I've been working here since July—7 days a week, 12 hour shifts.
Q: That's amazing. We salute you and all the courageous frontline workers who are making a difference during this crisis. What is your position at the hospital?
JC: I work in the emergency room. My title is "ER Tech" and I'm an EMT and a phlebotomist.
Q: That's important work. What do you like most about your current position?
JC: Every day is different, working side by side with doctors and nurses during some of the most critical emergencies. Our COVID area has had dozens of patients at a time. I enjoy the amount of experience and critical exposure I have and am able to assist with.
Q: What is a typical working day like right now, dealing with COVID-19?
JC: Typically we come in and scrub up at 7 am. We get reports from the night shift and get placed in a position (floor, chest pain, trauma, triage, or COVID "hot zone"). These are all located within the emergency room. We rotate throughout these positions through the week. Each position includes anything from assisting doctors with arterial lines, IV therapy, running a full code—any emergency or nursing scenario basically.
Q: That is critical work that you perform. Can you tell us about anything you're particularly proud of with regard to your healthcare work?
JC: The thing I'm proud of is showing up to work everyday. I left my family and home with 24 hours notice to take this job and help fight COVID. I'm proud that I came out here not knowing what I was getting into, was able to meet new colleagues, and make this a home for the next few months. Being ready to jump in at any time—this is a great accomplishment for me.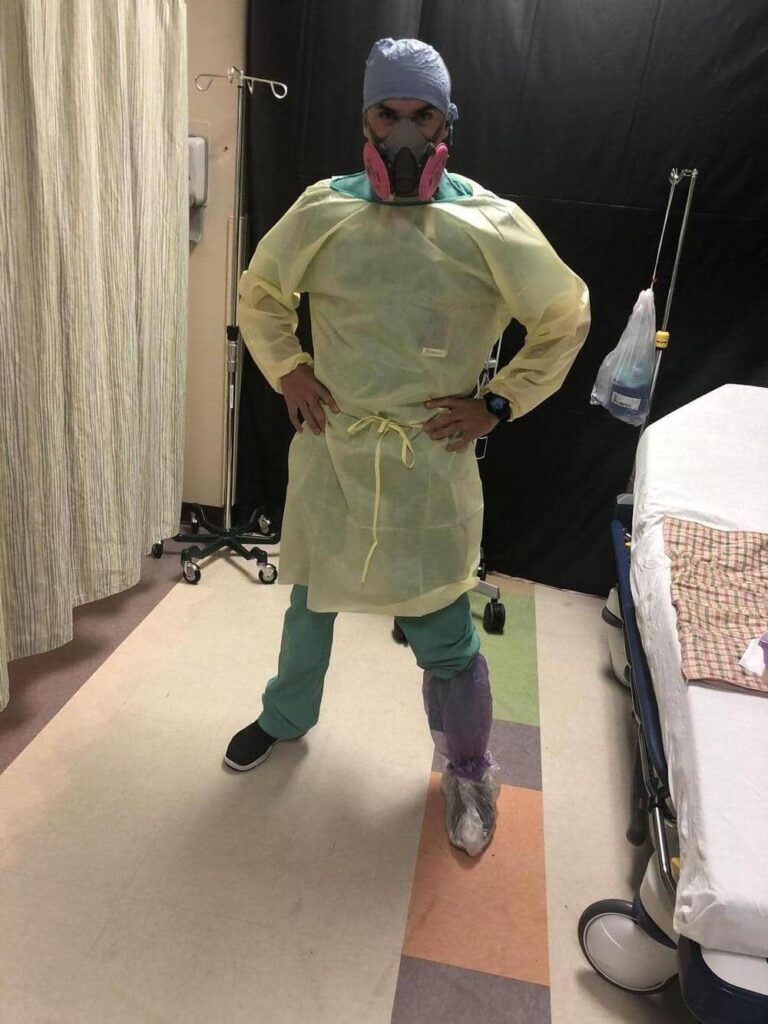 Q: Well, we're so glad you made that decision. Are there any challenges you've experienced during your time working as a healthcare worker?
JC: With this position, I have encountered many challenges. As this is my first time working in an emergency room, I hit the ground running, with minimal guidance, as we are understaffed. I learned many tasks on the job and I rely on my experience to push me through. Paying attention and critical thinking are very important.
Q: What is it like to work right now being a healthcare worker having to deal with COVID-19?
JC: In the beginning walking into a COVID unit I was nearly terrified. I thought "Why am I chasing this virus, flying across the country to a hot spot and risking my life to help?" As the days went on, that all subsided and I realized I'm a frontline worker and as a team we are all fighting together.
The thought of teamwork keeps me in the game. Dealing with death was hard for me, and it was a new aspect to my career. I had minimal experience in an urgent critical care environment before. Putting my first body in a body bag hit me hard. It made the experience real.
Q: Very real, yes. Is there anything that you've learned, early on in your healthcare career, that you feel is important and that helps you, that you'd like to share?
JC: Being able to keep a clear mindset is important. Moving on from one scene to the next and not getting caught up with a bad outcome helps improve patient care for the next patient.
To help with this, I meditate and exercise after work. Although I have minimal time to do anything after work, 30 minutes seems to do the trick. I used this method when I worked in an ambulance—that line of work was very unpredictable as well.
Q: Good advice. This has been a great interview. One final question: How did attending BAMA prepare you for your current position?
JC: Schooling at BAMA was quick and easy. I enrolled in the phlebotomy program and was in an accelerated course—this contributed to my getting my certification and license.
Thank you so much, Joel, you're amazing! We appreciate all you and your colleagues are doing at this critical time. Keep up the great teamwork!